RBA Rates On Hold And What This Means For You
Wed, 3 May 2017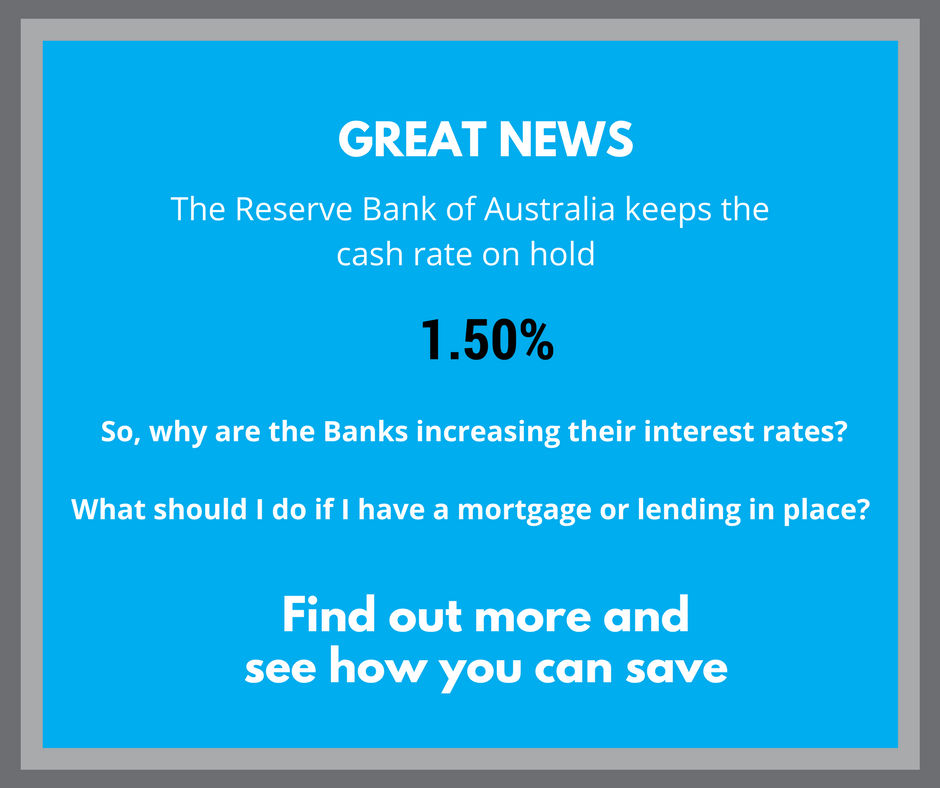 Great news! The Reserve Bank of Australia (RBA) keeps the cash rate on hold at 1.50%.
So, why are the Banks increasing their interest rates?
What should I do if I have a mortgage or lending in place?
Find out below:
Why are Banks increasing interest rates?
You will no doubt have noticed that lenders have been lifting rates across the board. The main reason is that due to the current market conditions, investment property lending is still growing at a faster rate than owner occupied lending. As a result, ASIC and APRA have imposed regulatory changes on how banks lend money for investment purposes as well as lending that is interest only. This results in Banks being required to hold additional capital to protect against potential future losses due to perceived higher risk lending'. As such, the easiest way for lenders to raise this additional capital is to raise interest rates and set aside the increased income from your lending.
What should I do?
With all the rapid changes and the volatility of the interest rate market, it's never been more imperative to seek sound advice regarding your current lending arrangements. You may hear people talking about simply refinancing to another lender that is offering a cheaper rate. However, if this triggers a sudden flood of new lending to that bank, they may find themselves in danger of breaching the investor lending cap, resulting in their interest rates having to increase. And, the cycle continues.
Action for you. Firstly, check your interest rate. If it's more than 4%, Contact DO Financial to discuss your situation. We have personally been able to save clients $000's of dollars a year in repayments. Don't miss out on the opportunity to put this money back in your pocket each month and also save you additional interest over the term of your loan.